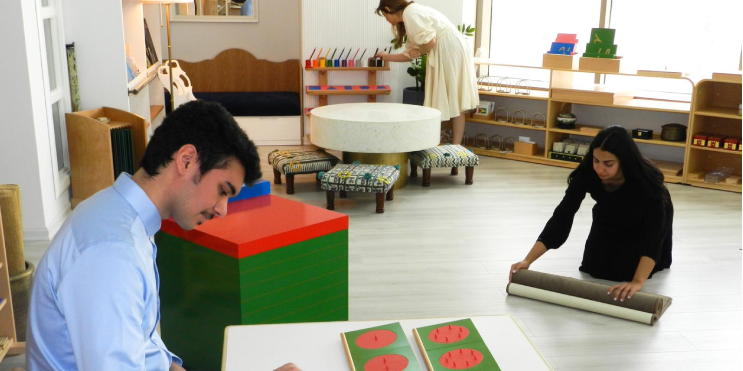 A course delivering a full internationally recognized Montessori diploma for ages 6 to 12.
Designed mainly for educators in the classroom, as well as for people wanting to learn in detail Montessori education for this age group.
Course Description
The study of Montessori pedagogy and child development as well as an interdisciplinary approach to the study of human beings, their endeavors, and their relationship with the universe for children from six to twelve years.
Qualification Delivery:
A minimum of 440 hours of classroom-based training including lectures and a minimum of 140 hours of practice with Montessori materials under supervision. A minimum of 210 hours of observation and vocational placement in Montessori settings.
SCHEDULE
To be announced later
BENEFITS
Receive International diploma Certificate by Association Montessori Internationale (AMI), recognized all over the world.
Learn from our experienced AMI Training Directress Coral Ruiz.
AMI TRAINER
To be announced later
Qualification Awards
The AMI Diploma is awarded upon satisfactory completion of the AMI Requirements for Certification, a document that is signed by the Director of Training and the student upon acceptance into the course. In order to be eligible to sit for the written and oral examinations a minimum attendance of 90% is required in the following: theory lectures, demonstrations of
materials in each area, a minimum of 140 hours of supervised practice, discussions/reviews, and required reading seminars.
In order to receive the diploma the following requirements must be met: successful written and oral examinations, submission of acceptable albums in all areas, materials as required, observation and observation reports, practice teaching as scheduled, and practice teaching reports.
Required Reading:
By Dr. Maria Montessori:
• To Educate the Human Potential
• From Childhood to Adolescence
• The Advanced Montessori Method, Vols 1 & II
• Education and Peace
• The Absorbent Mind
• Psychogeometry
ENROLLMENT CRITERIA
One-page motivation essay answering the question 'why do you want to take the AMI 3-6 diploma course?'
Curriculum vita
Previous Certificate (s)
 Professional reference letter (s)
Passport Copy
Pay BHD 500 to Benefit Pay or wire transfer the amount, using IBAN BH73 AUBB 0001 0289 1350 01to Manama Montessori Training Center W.L.L- Please mention your name on the transaction description of BenefitPay App on the Mobile.  Take a copy of it and attached it with the rest of the documents in one email.
PLEASE SEND THE REQUIRED DOCUMENTS TO info@manamamontessori.org