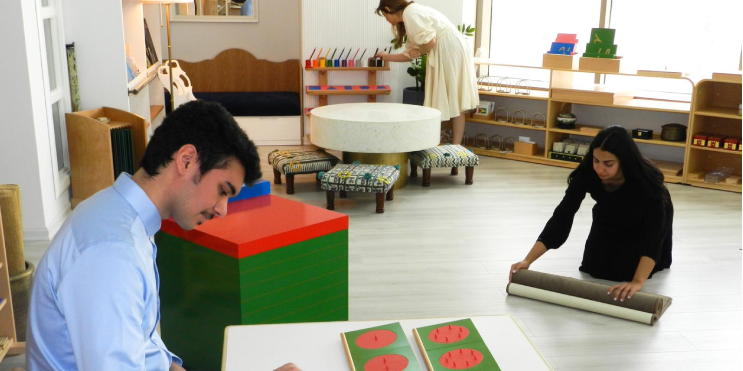 A course delivering a full internationally recognised Montessori diploma for ages 3 to 6.
Designed mainly for educators in the classroom, as well as for people wanting to learn in detail Montessori education for this age group.
Objective
Teach in Montessori schools and kindergartens anywhere in the world. AMI diploma holders are in high demand.
Set up your own Montessori school
Use this qualification for social work, mainstream education and your own parenting.
Content
An in-depth study of Montessori pedagogy focuses on children's developmental needs from three to six years of age.
The Montessori Philosophy, Psychology and Child Development
The Child's Acquisition of Fundamental Learning Skills
The Development and Education of the Senses
Language and Literacy
Mathematics
Montessori Materials and their Role in Assisting Child Development
The Critical Role of Observation
Montessori Professional Experience
Educational Theory and Practice
Administration
Legal Issues and OHS
Reading and Discussions Sessions
Written Work
Material Making
SCHEDULE
BENEFITS
Receive International diploma Certificate by Association Montessori Internationale (AMI), recognized all over the world.
Learn from our experienced AMI Training Directress Coral Ruiz.
AMI TRAINER
DURATION
180 Hours of The Theory of the Montessori Method
140 hours of practice with Montessori materials under the supervision in the training Centre
20 Hours of Auxiliary Lectures
72 hours of observation in Montessori primary classrooms
80 hours of teaching practice in Montessori Primary classrooms
REQUIREMENTS
Attendance. Minimum of 90% attendance.
Guided practice.  Minimum of 140 hours of practice with Montessori materials
Manuals . 5 manuals completion of personal teaching manuals
Observation and teaching Practice: completion of observation and teaching practice in Montessori settings.
Mandatory reading 20 books obligatory and recommended reading.
Materials. Submission of handmade materials
Exams, successful completion of written and oral exams:
Overall satisfactory participation in the course. As evaluated by the Course Director.
ENROLLMENT CRITERIA
One-page motivation essay answering the question 'why do you want to take the AMI 3-6 diploma course?'
Curriculum vita
Previous Cetrficate (s)
 Professional reference letter (s)
Passport Copy
Pay BHD 500 to Benefit Pay or wire transfer the amount, using IBAN BH73 AUBB 0001 0289 1350 01to Manama Montessori Training Center W.L.L- Please mention your name on the transaction description of BenefitPay App on the Mobile.  Take a copy of it and attached it with the rest of the documents in one email.
PLEASE SEND THE REQUIRED DOCUMENTS TO info@manamamontessori.org