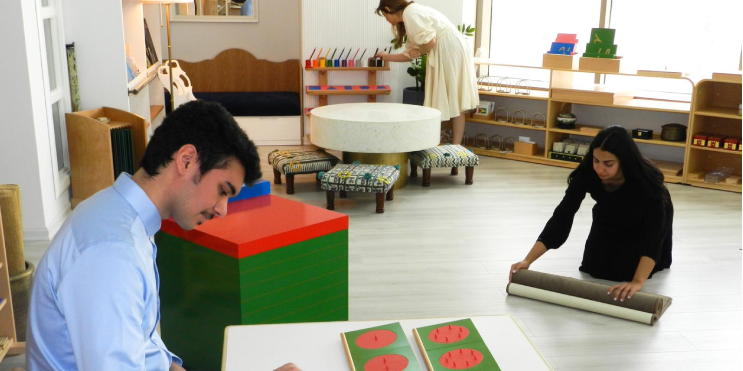 Course Description:
The AMI 12-18 Diploma is a rigorous study of Montessori principles and of the particular developmental characteristic and needs of young people ages 12-18. The course offers theoretical principles, key experiences in the life and work of adolescent communities, and support for implementation strategies dovetailed to the particular cultural and local contexts for communities in different places and regions.
This course includes:
A study of general Montessori theory
Foundational studies of children ages 0-12 years old, with a focus on key points of interest and materials that inform our work with adolescents
Montessori principles and practices for adolescents ages 12-18
Frameworks and implementation strategies for integrated study projects
An examination of culturally-responsive education and Montessori for Adolescents through the Anti-Bias, Anti-Racist lens
Essential experiences in social organization, economic activities for adolescents, self-expression, and residential and community life
Work on the land
Seminar discussions on Montessori texts
Writing papers on Montessori principles applied to adolescents
Certification Requirements
Students must maintain a minimum 90% attendance to receive a certificate. A student's camera must be on during the online components to qualify as being in attendance. 
Outside of the online session times, students are expected to do an additional 10-12 hours per month of additional readings and follow-up work such as lecture notes; reflections (journals); observation exercises, lexicon terms; integrated theory paper.
Observations will be required along with observation notes and reports: First Plane (12 hours), Second Plane (12 hours) Third Plane (80 hours)
Students must attend the sessions in a space away from distraction as much as possible. They must be able to take notes and participate in group discussions and breakout rooms. 
There is also a mandatory 2-week residential component with evening and weekend work.
Required reading:
The Absorbent Mind, Maria Montessori
Citizen of the World, Maria Montessori
Education and Peace, Maria Montessori
From Childhood to Adolescence, Maria Montessori
The Secret of Childhood, Maria Montessori
"The Human Tendencies and Montessori," Mario Montessori (booklet)
To Educate the Human Potential, Maria Montessori
The 1946 London Lectures, Maria Montessori
AMI Communications 2011:

"The Adolescent: A Social Newborn"
"Principles and Practice in Education"
"Development and Education of the Adolescent," Kodaikanal lecture
"Three Levels of Ascent," Maria Montessori
"The San Remo Lectures"
To be provided by SMTC in downloadable PDF form:
"The Four Planes of Development," Camillo Grazzini
E.M. Standing, Maria Montessori: Her Life and Work, chapter 17, pp.263-270
"Some Suggestions and Remarks On Observing Children," Maria Montessori (NAMTA Journal)
Maria Montessori, "Lecture 19" 1921
Maria Montessori, "Lecture 4" 1927
"Observation," by Hilla Patell (NAMTA Journal)
"The Observation Artist" by Molly O'Shaughnessey (NAMTA Journal)
Additional Readings (not required):
The Discovery of the Child, Maria Montessori
Education for Human Development, Mario M. Montessori Jr
Education for a New World, Maria Montessori
The Formation of Man, Maria Montessori
Volume I of The Advanced Montessori Method, Maria Montessori
Maria Montessori: Her Life and Work, E.M. Standing
Application Requirement:
AMI Montessori 12-18 Diploma applicants are required to provide the following:
Current resume
Certified copies of all academic transcripts
A short 2 page essay written in the applicant's own words on why you want to undertake the diploma and what brought you to Montessori
2 written signed reference letters (1 personal, 1 professional)
PLEASE SEND THE REQUIRED DOCUMENTS TO info@manamamontessori.org