ABOUT MANAMA MONTESSORI
Manama Montessori Teacher Training Centre is the first AMI Teacher Training Centre in the Middle East, located in the Capital City, Manama, in the Kingdom of Bahrain.
We are affiliated to Montessori education world's leading body, Association Montessori Internationale (AMI), located in Amsterdam, in order to provide people with the best quality standards for Montessori.​
Manama Montessori Training Centre offers training programs for Primary guides and assistants, preparing the next generation of Montessori educators working to create a more peaceful world.​
We believe in training adults in accordance with principles of the AMI, so they will be able to understand the fundamental nature of childhood, and thus enable children to grow and develop according to their natural dispositions.
Comprehensive Knowledge
The training programs provide rigorous and comprehensive courses of study to best prepare adult learners for their work in Montessori classrooms and schools.
Application
Learners will observe, practice and apply what they learnt in an accredited Montessori classroom as part of the training center with a certified Montessori Trained Montessori Teacher.
Transformative
We will empower learners to improve the well-being of children and their natural development.
Caring
Learners will develop new values as they engage in doing tasks, seeing the connection trust others, and more importantly value what they have learned and learning as a process.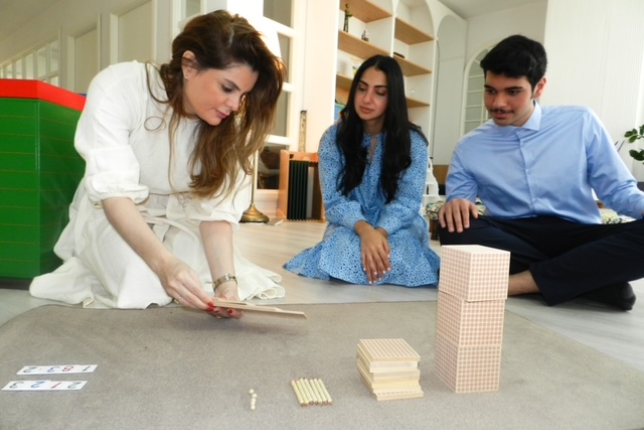 WHAT IS MONTESSORI EDUCATION?
"Education should no longer be mostly imparting of knowledge, but must take a new path, seeking the release of human potentialities." Maria Montessori
Montessori education builds a child's capability to become a fulfilled and productive adult able to contribute to the world—at home, at work, and in their community. Maria Montessori's observation of human development from birth to adulthood led to an education approach that supports children's natural development, providing the skills and support to reach their full potential in life. With a strong emotional, behavioral, and moral foundation, children become motivated, active, and independent learners who are prepared for the real world.
​
The Montessori approach provides children with enduring intellectual capabilities, achieved through the framework of social and emotional learning.
Montessori develops the whole child. Academics and knowledge-building are key qualities of Montessori, as is the ability to think creatively and understand the needs of others. When these fundamental skills are fostered early in life, children gain the capability to problem solve, persevere, and interact well with others in any circumstance.
AMI Accredited Montessori Training Centre in the Middle East
Trainees Enrolled at MMTC in 2021
Countries Support Montessori
Years of Development in the Pedagogy

Maryam Naser
Administrator at Madeleines pre-school
Manama Montessori center offers a unique and creative environment equipped with the necessary tools and resources needed to succeed. It fosters a personable and supportive culture, where constant feedback and dialogue are not only welcomed but also encouraged. The team has a genuine sense of enjoyment and care unlike anywhere I've seen. The diploma provided me with the opportunity to advance my knowledge in Montessori and contributed to my personal growth and development. It has equipped me with the tools I needed to excel in future leadership roles within the field as well as become an advocate for the Montessori education system. The AMI Montessori Diploma improved my critical thinking skills which have tremendously changed the way I deal with and observe children in the environment. To all students that will consider joining the AMI diploma, anticipate embarking on an exceptional journey. You will be exposed to a challenging and one-of-a-kind training program unlike any other. Going through the program, you will be exposed to unique and creative methods that would challenge your perspective about childcare and equip you with the necessary tools needed to succeed in the Montessori field.

Fajer Alhashel
Education specialist from Bahrain
I am Fajer Alhashel, a special education specialist from Bahrain. After working for 12 years in the traditional or classic educational field, I began to feel that the traditional system is unjust to the child. Now, and after studying Montessori, it opened my eyes to what a child really needs and I can see a big difference between the traditional education system and Montessori. The Montessori system is beautiful and integrated, it takes into account the child as a whole, his emotional, cognitive and spiritual needs. Indeed, there is a lot of work during the course in order to become qualified as a Montessori guide, but the impact you make in your own life and the life of children is tremendous

Meriem Bennani
A mother, a Montessori Guide and an entrepreneur
"The AMI primary course at Manama Montessori has gone beyond my expectations. Embarking on such transformative journey as a Montessori teacher has given me another perceptive and in depth study of the Montessori principals in providing a holistic education for children in our care. We explored many topics during this course and I have realized that when one learns in depth about children and the human tendencies he/she immediately tap into his/her own psychology and therefore become connected to his/her main goal of existence as a member within the society and the essence of human nature to work together in cohesion comes to light. MMTC has given us the opportunity to observe children in AMI Montessori schools around the globe  and as I sat back and observed scientifically as Ms. Coral suggested, I became much more aware of the role of the adult in relation to her interactions with the child within the prepared environment.  The knowledge, grace and the high expectations of the trainer has given me a thorough study of the Montessori pedagogy and given me the sound confidence to prepare authentic Montessori environments in the future. I am honoured and extremely lucky to have made this step to study in MMTC and learn about another country and building friendships."

Dana Shubbar
English Co-Teacher
I am Dana Shubbar, an English Co-Teacher in one of Bahrain's leading Montessori Preschools. Although I have been working in Montessori environments for the Past 6 years, studying at MMTC has shown me a new dimension to the Montessori approach and to child psychology as a whole! It is a privilege to get hands-on access to the authentic Montessori Method, and to -the very precisely designed- Montessori Materials.  We are being introduced to each one of these materials, how & when they are presented and the philosophy behind their design, by the very well experienced AMI Trainer Ms. Coral Ruiz, who teaches us every day, how to live -not only- the Montessori way, but how to live as good human beings serving their communities and bringing peace to the society and the world. Not to forget, Ms. Thana Jaberi, founder of MMTC and AMI Trainer in Training, who shares with us valuable information about her journey with Montessori through the past 26 years and provides support 24/7 to make sure we are meeting the needed standards. The high standard of education given in this Diploma will definitely take education in Bahrain and the GCC to a new level, as creating independent, mindful and intelligent human beings starts from the very early years of human life!

Mariam farooq
English Coordinator at Britus International School
This is truly a life-changing experience. You will be challenged every day and you will get inspired simultaneously. There's truly nothing like it! In my opinion, what makes MMTC unique is its authenticity. Not only will you learn about the Montessori method, but you will also learn how to integrate it with your culture. This course will help you shape the new generation! I have been receiving job offers around the world just by simply stating that I am currently training at MMTC to become a certified AMI Montessori guide.

Mashael Fakhro
Environmentalist, Math Mentor and Community Builder, Harvard University
I am sincerely grateful to have a training program of such a high standard available in Bahrain and in person. Every part of the curriculum for the children has a purpose and balances between being inspiring and challenging. It is the education I wish for everybody. I'm grateful that questions about why things follow a certain method are welcome and encouraged, and especially that the method works with the nature of children, not against it. This creates a sense of trust in the instructors, the program and the certifying body, which makes every assignment feel purposeful, relevant and empowering. I am amazed to be growing in confidence about working in a Montessori environment as each week of the training goes by. This would not be possible without the energy of a group and staff committed to the importance of this work and its potential in supporting the wellbeing of children. More importantly, I am inspired and eager to apply the training towards working with children and creating beautiful material that is specific to the local culture. I appreciate being able to combine my other skills with this training for a lifelong career with plenty of opportunities to connect with people of all ages and nationalities, whether physically or virtually. "The greatest gifts we can give our children are the roots of responsibility and the wings of independence." - Maria Montessori

Amy Hardbower
Manpower and Administrative Captain in the United States Marines Corps
Ensure you are ready to be challenged and changed. The work is difficult, but rewarding. However, if you have too many additional commitments on your plate, you will find it difficult to take advantage of all the opportunities. Having good time management and a good support system will be very advantageous throughout the course. As the first training center of its kind in the Middle East, I love how the culture of Bahrain is woven through everything. I also enjoy meeting both the trainers and the other students. We all bring a unique perspective, and it has helped me continue to grow and become a stronger person. This diploma is helping me to pursue my dreams of becoming an educator. This is a completely new career path for me, and I found the AMI diploma at the perfect moment to begin my transition and entry into this field. Currently, I am a Manpower and Administrative Captain in the United States Marines Corps. I have been in this career field in various ways for six years. I am from Virginia in the USA. I hold a Bachelor's of Arts in International Relations and Arabic. I am also working on my Masters of Science in Nonprofit Management.